BASEBALL
USSSA BASEBALL WINTER ALL AMERICAN GAMES
December 27th-31st – VIERA, FL

Evaluations
On the first day of the USSSA Winter All American Games, participants will have their skills evaluated by top athletes and coaches.  This is an excellent opportunity to have our scouts compare your skill set to that of other players your age from across the country.  Plus, the key data from your evaluation will be posted on your player profile page on usssa.com.  Know more about your strengths and what areas you may need to work on!
These evaluations will allow each athlete an equal opportunity to showcase their skills in the following categories.  Participants will be evaluated on their primary and secondary position only:
Hitting

Throwing

Fielding

Pitching

Catching

Athletic Testing
ALL AMERICAN GAMES REGISTRATION
Participation in the USSSA Winter All American Games will be $300.  The games will include two team jerseys and a 5 game guarantee (weather permitting).  Participants will also go through a full evaluation experience.  All scores from the tryout will be posted in their guardian account. For the Winter All American games the 8U and 9U age division will be combined, the 10U, 11U, 12U, 13U, and 14U/15U age divisions will be on their own.
TENTATIVE ITINERARY
We have decided to select teams slightly different from years past. This year we will not have specific regional teams, we will be combining all the regions and athletes will rep their region with their Uniforms.  Athletes will be provided their region specific jersey at check in.  To elevate any confusion here is an example.
Example: Athlete home location is Oklahoma, the athlete is representing the South Region, Their check in time is 8am, their evaluation time is 9:30am. They will wear their South jersey all week.
Monday, December 27th
Check-in & Player Evaluations
8AM-9AM Check-In Southeast Region and Midwest Region
9:30AM-12:30PM Southeast Region and Midwest Region Evaluations
11:30AM-12:30PM Check-In Northeast Region and Southwest Region
1:30PM-4:30PM Northeast Region and Southwest Region Evaluations
3:30PM-4:30PM Check-In West Region and South Region
5PM-7:30PM West Region and South Region Evaluations
Activities
2PM-6PM Battle of the Bats
5PM Volunteer Coaches Meeting @ Red Quad Club House
7:30PM Staging for Parade of Champions (Stage @ Blue Quad FP & BB)
8PM Opening Ceremony @Main Stadium FP & BB
Tuesday, December 28th
Pool Play
6PM Homerun Derby & Skills Challenge (Players will be selected based on evaluation scores)
Wednesday, December 29th
Thursday, December 30th
Bracket Play
12PM 9U/9U All Star Game @ White DeMarini
12PM 10U All Star Game @ White Easton
12PM 11U All Star Game @ Red Easton
12PM 12U All Star Game @ White Rawlings
12PM 14U/15U All Star Game @ Red Wilson
2PM 13U All Star Game @ Main Stadium
Friday, December 31st
Bracket Play Continues-Semi-Finals & Championship Games
Championship Games at 12PM
LODGING/TRAVEL INFORMATION
This event is a Stay to Play event.  It is each individual athlete's responsibility for transportation, lodging, etc. during the culminating event. Our travel policy requires ALL participants to book lodging through Anthony Travel. Anthony Travel secures room blocks at the closest available hotels and negotiates the lowest rates and best amenities for participant.  If you do not wish to book through Anthony Travel, you can contact them for the buyout fee.  All participants will need to go through Anthony Travel at check in to verify they are compliant.
Anthony Travel has a lowest price guarantee. If you don't see something that fits your need please do not hesitate to reach out to them directly via email at USSSA@anthonytravel.com or via phone at 855-501-7114.
Player Pictures for Tournament Program
All player pictures must be uploaded into their player Guardian account before December 12th if they are to appear in the tournament program.  We will not be able to accept any pictures after this time as the programs will begin to print following that deadline.  If you do not have a Player Guardian Account please contact Jenny.Gladding@usssa.org
LOCATION
This event will be hosted at the USSSA Space Coast Stadium and Complex in Viera, FL.
5800 Stadium Pkwy | Melbourne, FL 32940
Website:www.USSSASpaceCoast.com
SPACE COAST COMPLEX A-Z COMPLEX POLICIES
The following policies apply at all times: 
No alcoholic beverages may be brought into the complex
Service animals as defined by the American with Disabilities Act are permitted
No firearms or weapons in the complex
No food or drink may be brought into the complex Except: Individual players are permitted 1 personal water jug up to 74fl oz. in size and 1 small cooler with ice and towels only.
No bikes, skates or skateboards in the complex
The Space Coast Complex is a No-Smoking Facility
All bags and purses are subject to search
Outside Food and Beverage
Space Coast Complex does not allow any outside food or Beverages inside the complex.  Individual players are permitted 1 personal water jug up to 74fl oz. in size and 1 small cooler with ice and towels only.
Lost and Found
Lost and Found is located at the Pro Shop near the Space Coast Stadium.
Turf/Bullpen/Dugout Rules
No metal cleats. Only molded cleats and athletic shoes are accepted. No gum or sunflower seeds are allowed at Space Coast Complex.
No food, beverages, gum or seeds of any kind allowed
No glass bottles or containers, no outside alcohol of any kind allowed
No sharp objects, including tent stakes or chairs
No liquids other than water
No smoking of any kind
Lightning
All guests are required to leave the complex until the lightning delay has cleared. The gates will be locked until the delay has been cleared by Complex Staff.  Please follow the Rainout Line (information listed below) for updates on any weather delays.
Restrooms will be available at Space Coast Stadium Concourse as well as the Clubhouse located near the Red Quad.
Tents
Tents are restricted to low traffic areas around the outfield fence. No tents are permitted in high traffic areas including behind home plate. In the Event of inclement weather, tents must be taken down for safety.
COMPLEX MAP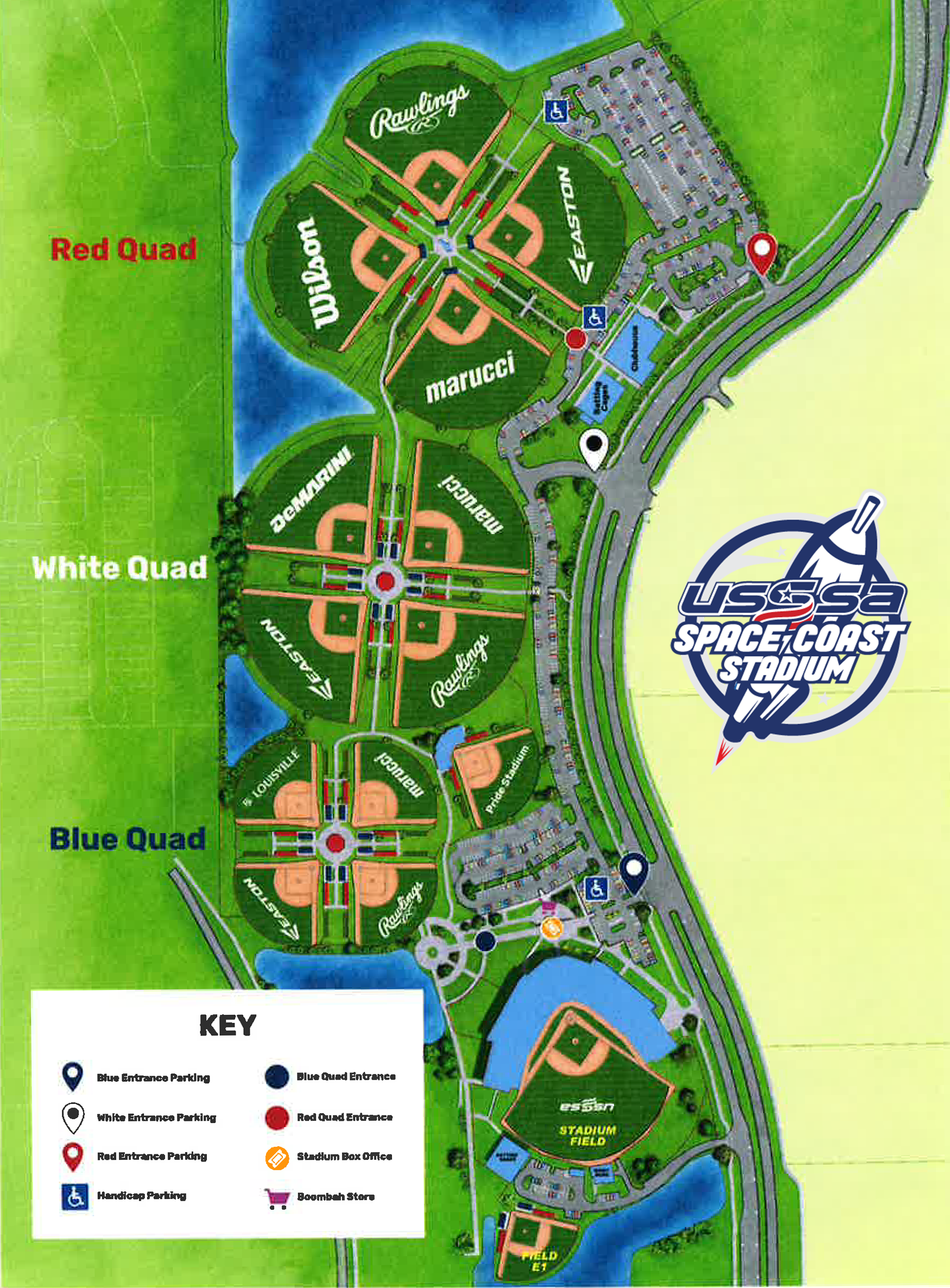 DAILY ADMISSION
Tickets
All guests are required to purchase a ticket prior to entering USSSA Space Coast Complex. To purchase a ticket, click on the link below, or visit usssaspacecoast.com, click on the ticket drop down and select the ticket you would like to purchase. There will be no Box Office available at USSSA Space Coast Complex. QR Codes will be available at each entrance for guests who have not purchased a ticket prior to their game.
Wristbands
Wristbands will be distributed to guests at the gate after their ticket is scanned each day. Guests will be required to wear the wristband on your wrist, until you have left the Complex for the day.  Participants and spectators 12 and younger will not need to purchase admission
WEEK TICKET PACKAGE: Advanced price is on sale now ($58), they will revert to full price ($72) at 12am on 12/26.
DAILY TICKETS: Only one price of $16, for anyone ages 12 and up, starting at 12am on 12/26.
RAINOUT LINE
In the event of inclement weather, we have a weather app that will help communicate to you the changes that are occurring in the event.  You will be able to subscribe via an Android or iPhone App to receive all updates on your phone.
(772) 208-6367
Log on to the website at www.RainoutLine.com or Download the RainoutLine App. Search: USSSA  Tournaments
Select the Event location you will be attending: Winter All American Games
Click on the star to keep us locking in as one of your favorites
USSSA LIVE STREAMING
Subscribe today so you can catch every pitch from the All American Games LIVE on USSSALive.com.  USSSALive is available on Apple TV, Roku, and Amazon Fire.
USSSA Live Subscriptions
Weekly $5.99
Monthly $9.99
Yearly $79.99
After your game you can re-watch the memories and even download your favorite plays using the Clip Extraction Feature. Grab a clip as little as $1.49. Just hover over the clip and choose the video cutter tool.
Video Editor Bundle
https://usssalive.com/video/Download_Your_Clips
Single Clip        $1.49
5 Clips              $4.99
10 Clips            $6.99
Whether you're at the field or at home you can enjoy USSSALive.com and take the action with you.
UNIFORMS & EQUIPMENT
Athlete Receives:
Two game jerseys
Hat
Evaluation T-Shirt
Athlete Brings
White Pants (No piping, Knickers are Fine)
Navy Socks
Navy Belt
Personal equipment (No metal cleats)
Evaluation Attire
For any of the participants going through the evaluation (any player who didn't attend a tryout and wishes to get evaluated) you can wear any athletic attire.  A t-shirt will be provided to you at check in that you will wear during the evaluation.
HEAD COACH APPLICATION
We will be accepting applications for Volunteer Head Coaches for the Winter All American Games. Please fill out the application no later than December 20, 2021. Once we have the applications we will review and choose a Volunteer Head Coach for each team. Role of a Volunteer Head Coach
Warming up the team before a game
Coaching 3B during the game
Encouraging and cheering on All athletes on the field
All administrative needs (Including)

Bringing line-up cards fully filled out to the score keepers 30 minutes prior to game
Maintaining the 7 Inning Tracker to make sure that all players are given fair and equal playing time at their primary and secondary positions.
Abiding by the USSSSA pitching rules and regulations
Make all Game-Time decisions as you are required to follow guidelines put in place by the USSSA National Office (more details will be provided in the Coaches Handbook)
2021  WITNER AAG HEAD COACH APPLICATION
REFUND POLICY
No refunds will be issued at or anytime after registration has been entered and payment has been accepted.